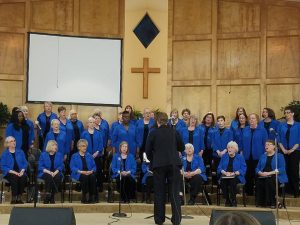 Last week, the Singing Women of Southeast Texas had the opportunity to perform our first full concert of the year at a little church in Grangerland, Texas. Pastor Jay McIntosh and his wife Kim serve at First Baptist Church faithfully and have cultivated a congregation full of love and service for their small community.
On a night that was otherwise cold, damp and dreary, a fire was lit inside with the pounding hearts of forty faithful singers, ten amazing instrumentalists and over one hundred guests. Together, the roof was raised with songs of adoration and praise to our Lord and Savior Jesus Christ. Worship concluded with a musical salute to our country and recognition of military personnel and families, veterans, first responders and flood victims. I can't think of a better way to spend my Sunday evening.
I didn't know it at the time, but I was actually in the throws of influenza. It is amazing how God provides us that extra dose of strength right when we need it. In fact, the next day I was still basking in the glow of the evening but reality set in by nightfall. I would literally crawl in bed late that afternoon and not emerge for the next three days. I was no longer singing His praises. In fact, I could barely take a breath.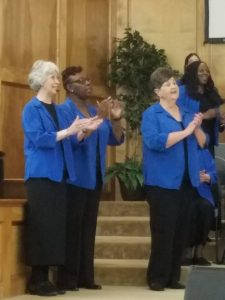 Does God understand when we are too tired or too sick to praise Him? Or does our last time carry over until the next? I prefer to think that I have a permanent song implanted in my heart that keeps running even when I cannot sing. Words and notes from songs of faith still drift in and out of my head; sometimes, I even wake up to it.
One song from this year's repertoire that continually swirls around my brain is called Precious Lord, Take My Hand. It was written in 1932 by Tommy A. Dorsey after losing both his wife and newborn son during childbirth. Roy Ringwald's arrangement of this piece is anointed in that every verse has a unique musical treatment befitting the text.
My favorite verse is the second:
Precious Lord, take my hand,
Bring Thy child home at last,
Where the strife and the pain all are past;
I have dreamed a great dream where Thy love shall rule our land:
Precious Lord, precious Lord, take my hand.
Tommy A. Dorsey gets it. When we get to Heaven—at last! No more pain. No more strife. And God's love shall rule the land.
Now I know the flu seems like small potatoes compared to other stressors and health issues in life, but in the throws of it—when you can't break your fever or lift your head or do anything for yourself—and especially when the media has warned you that influenza has taken some lives recently, death can seem a little closer than it did a week ago. It seems silly now, but those lyrics were very comforting to me during my respite.
I am pleased to say that I have been up for three hours straight this morning with only a light fever. I fully intend to be 100% on my feet by Sunday morning ready to worship again in the house of the Lord! If for some reason I don't make it, know this: I have enough songs on my Gospel Praise list to last me quite awhile and if that isn't good enough, I have even more implanted in my Southern Baptist brain to last me until the Lord returns.
I will bless the Lord at all times: his praise shall continually be in my mouth. My soul shall make her boast in the Lord: the humble shall hear thereof, and be glad. O magnify the Lord with me, and let us exalt his name together. Psalm 34:1-3
Praise Him at your best, and it will carry you through your worst.* Bari 1:14
*please note that this is not found in the Bible!
SaveSave